Online 
Diabetes UK Online Support event for adults with Type 1 Diabetes

The first #TheBig1 Online takes place on Wednesday 28th April from 6.30 pm to 8 pm and will focus on Sport and Exercise and registration is free.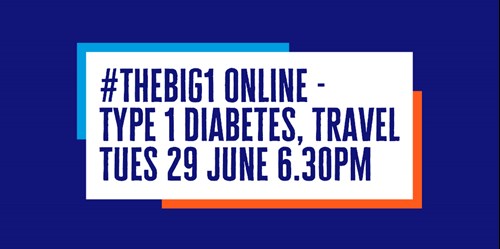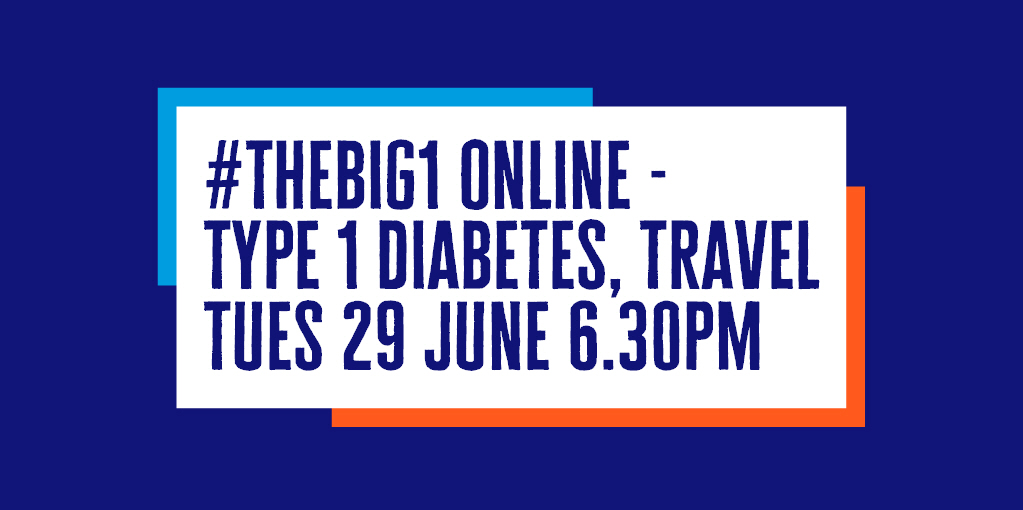 The second #TheBig1 Online takes place on Tuesday 29th June from 6.30 pm to 8 pm and will focus on Travel and registration is free.
Each session is designed to be friendly and supportive, encouraging conversation and support between attendees. We have run a variety of these events over the last year and have had very positive feedback.
Diabetes UK Online Support event Teenagers and Type 1
Life with type 1 diabetes isn't always easy. But sometimes it can help to hear the experiences of other people who know exactly what it's like.
Join Diabetes UK for their 'Teenage and type 1' online Q&A session to hear from our panel of 15–21-year-olds living with type 1. They'll share their personal experiences and answer your questions about the (emotional and practical) highs and lows.
They'll have their camera and mics on, but you won't – so you can sit back, take it all in, and submit your questions through the Q&A button.
Please note: this session is aimed at 13–17-year-olds in the UK living with type 1.
Date: Monday, 17 May
Time: 7pm-7.45pm
Register for your free place here: https://eu.eventscloud.com/teenage
Exercising with Type 1 Diabetes 2021 Virtual Event

A virtual event calling for all people with type 1 diabetes who want to improve their exercise and nutrition. This interactive programme has been established after EXTOD surveys found that people with Type 1 diabetes find managing glucose around exercise challenging and requested further education on this subject.
Taking place on the 22nd May and 12th of June 2021 9 - 1pm.
Find out more and register directly on their website: https://www.redhotirons.com/exercising-type-1-diabetes-2021
GP Surgeries 
Penn Hill Surgery
Mental Health Group: Takes place on the first Monday of the month from 6 pm - 7:30 pm and is open to anyone from any other GP practice. It's led by one of the Penn Hill Surgery's counsellors and supported by a health coach.  
Health & Well-Being Group: Takes place on the third Monday of the month from 6:30 pm - 7:30 pm and is designed to offer support to anyone that is struggling with their weight and at risk of developing type 2 diabetes. The group keeps things fun by doing quizzes and have speakers in from different areas of healthcare such as dietitians and health coaches.
Preston Grove Surgery
Peer Support Group: Preston Grove Medical Centre is now doing a peer support group on the first Saturday of each month at 9:30 - 11 am. It is an open invitation to anyone with diabetes, you do not have to be a patient with Preston Grove to attend.
Frome Medical Centre
Peer Support Group: The peer support group for Mendip takes place at Frome Medical Centre on the 2nd Monday of the month from 6 - 8 pm. Dr Rob Taylor and the Health Connector run the session. There is n

o need to book and patients from other GP practices are welcome to attend.